Description
Anthem MDX-16 16 Ch Distribution Amplifier
The MDX-16 is a high performance, 8 zone distribution amplifier. Engineered to simplify your custom audio system installation, the MDX-16 offers outstanding texture, efficiency, high power and reliability. The all new Anthem MDX Series are also the first distribution systems to feature fully powered independent-zone subwoofer connections, as well as ARC® Genesis room correction for each zone.
Why install an Anthem MDX-16 Zone Amplifier?
Anthem's research and engineering division, sequestered in the epicentre of the Canadian tech industry, Ottawa, Canada, is the driving force behind the revolutionary MDX Series. Anthem's Engineers spent over 2 years developing MDX and its myriad of features including Anthem Room Correction Technology for each zone.


The result is a revolutionary, multi-zone amplifier that combines the best in high-fidelity audio performance with cutting edge digital signal processing, customization and control. And the MDX16 represents great value and efficiency. It saves space in your A/V cupboard/rack without blowing your audio budget! The MDX-16 is attractively priced near to the range of most inferior mass-market options.
Intuitive Web Based Set-up
Nothing could be simpler than on-site configuration and calibration using Anthem MDX intuitive Web-based controls.
The specially designed, adaptive user interface works on any device. Custom configure zones, from input assignments to zone names. Adjust levels (and every aspect of performance) independently.

Efficient Amplification and Switching
Fast, efficient Ultra-Class-D amplification is supported by proprietary Advanced Load Monitoring technology, delivering reliable performance under even the most demanding loads. And the MDX high-efficiency design meets and exceeds global power-saving standards.
Smooth, instantaneous digital switching output allows the linking of digital inputs between multiple amplifiers and analogue pass-through connections allow daisy-chaining of multiple MDX units for larger installations.
Flexible Zone Configuration and Matrixing
Zones can have custom names, multiple inputs, independent playback, and tuning controls. Bridge zones for more power. Enable subwoofer bass management in any zone, instantly set crossover frequency, level, phase, and polarity.
Only the MDX Series gives you this much control over multiple zones, supporting more creative system designs and more thrilling audio performance.
Full digital/analogue matrix switching allows you to assign any analogue RCA, digital coaxial or digital optical input to any output, either pre-configured via the web interface or switched in real-time via IP commands.
Anthem ARC Genesis Room Correction
Your room plays a vital role in determining the sonic performance of your expensive speakers!
All of the key audio elements, dynamics, texture, bass management and most importantly, intelligibility, are impacted by your room shape, dimensions and surfaces.
Most modern amplifiers, receivers and soundbars are delivered with some form of room analysis and correction capability.
The Anthem ARC Genesis platform supported by the MDX Series sets a new standard for domestic audio installations.
Rivalling many professional acoustic analysis tools, Anthem ARC Genesis is a comprehensive kit including software and high-grade condenser microphone that will ensure you experience a full return on your investment!
What is ARC?
Simply put, Anthem Arc Genesis quickly "corrects" the effects that reflective surfaces such as walls, floors and ceilings have on the sound radiating from a loudspeaker. Removing the effects of these obstacles allows your audio equipment to achieve a more natural sound in any room, as close to the lab standard as possible.
On a more complex level, ARC is a proprietary digital signal processing software that works with a specially-engineered calibration microphone and your PC to quickly and easily optimize audio for your unique listening space.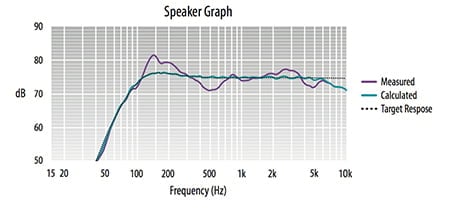 Anthem engineers developed the ARC system while researching how to replicate the audio-lab standard of performance in non-lab environments. This ground-breaking research was conducted in conjunction with the National Research Council of Canada, the Canadian government's research and technology organization.
Anthem engineers realized that real world listening experiences had little in common with the controlled environment of the audio lab. That's because even the best loudspeakers are affected by room anomalies like furniture. These obstacles cause standing waves, resonances, and reflections that can colour the sound you hear. Imagine the sound waves coming from your speakers as ripples on a water surface. That makes it easy for you to understand how the ripples of sound bounce off any obstruction they encounter. You can immediately see the benefit of removing the obstacles.
ARC digitally compares a room's acoustic signature to that of the lab standard. It measures the response of each speaker relative to the listening area. Then it uses advanced algorithms to eliminate the negative effects of the obstacles in the room, adjusting response and correcting phase effects. When ARC removes the obstacles, what's left is the lab standard performance.
KEY FEATURES:
• 16 Channel/8 zone audio distribution amplifier
• 60 Watts (8 Ohms) / 120 Watts (4 Ohms) with all channels driven
• Bridgeable to provide 200 Watts (8 Ohms)
• 24-bit/192kHz digital-to-analogue converter (DAC)
• IP/RS232 capability ensures compatibility with leading home automation systems
• Web-based configuration
• Anthem ARC Genesis room calibration
OUR THOUGHTS:
• A superior way to power, configure and control your high-quality zone speakers
• ARC Genesis Room Correction is second to none