Description
The all new Sonos ARC soundbar is an excellent "2 in one" solution for TV/movie sound and music streaming in modern Living Rooms.
Immersive Sound
The sleek Sonos ARC soundbar chassis houses 11 specifically designed speakers in a directional array. This design results in the immersive and exciting delivery of TV, movies and streamed music. And "up-firing" ATMOS drivers and audio processing ensure the Sonos ARC gives full expression to modern, over-head surround tracks.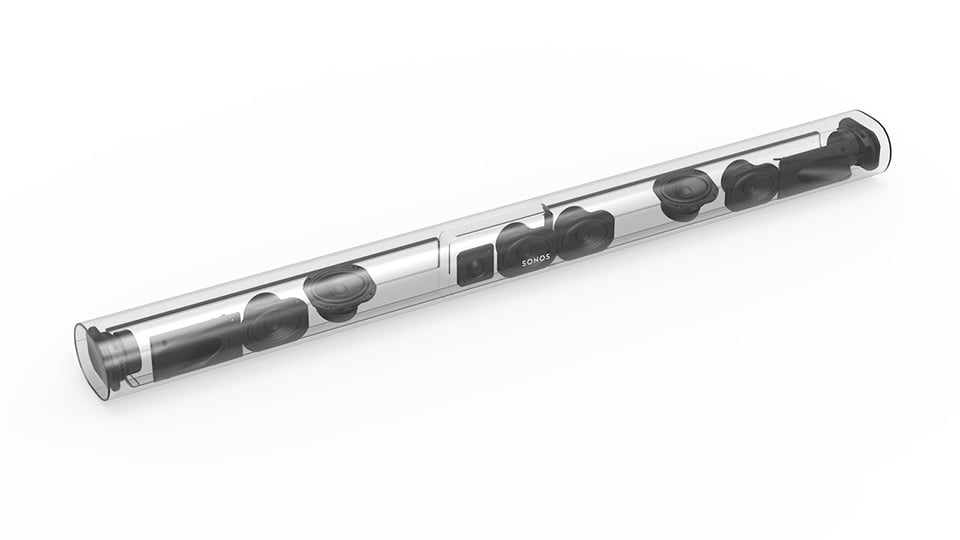 Enhanced, Sonos Trueplay® tuning further calibrates the audio to match your unique room acoustics. Importantly, the clarity of dialogue is exceptional (custom tuned by a team of Oscar winning audio engineers). And background music playback is full-bodied in small and medium spaces.
Elegant Design
The Sonos ARC soundbar is available in both black and white finish. And the ARC is cleverly engineered to simply sit on joinery forward of your TV without compromising the audio reproduction. An infra-red repeater ensures the function of the television remote control isn't impaired. Alternatively, the Sonos ARC is easily wall-mounted immediately below the TV (wall-mounting bracket accessory required).


A magnetic sensor detects the wall-mount positioning and automatically adjusts the EQ to overcome boundary effect and its corresponding "boomy" bass. The Sonos ARC's LED status light even dims according to the light level in the room. Now that's clever…and thoughtful!
Modern Connectivity
The ARC includes an HDMI e-ARC connection. This connection guarantees full compatibility with current multi-channel movie soundtracks. An optical adaptor is also provided for installations where the television pre-dates HDMI ARC connectivity.
Easy to Operate
The volume of the Sonos ARC can be easily controlled via your existing television remote control. Plus, the highly regarded Sonos S2 APP also allows full control of the ARC from anywhere in the home on Apple and Android phones and tablets. Full Airplay 2 support is a bonus in Apple homes. Finally, the ARC can be operated via voice control…if you're game!
Expand Your Experience
The cinematic performance of the Sonos ARC is significantly boosted with the addition of the matching, wireless, SUB. In fact, we regard the SUB as essential for full-bodied movie and music playback in medium and larger spaces. And wireless rear surround speaker options add further dynamics and dispersion.
Sonos are masters of multi-room audio.
If you're enjoying the Sonos ARC in the Living Room, there are a wide range of benchtop and architectural speaker options for every room in the house…and even outdoors.
KEY FEATURES:
• Sonos' superior soundbar option for TV audio.
• Output volume is well-suited to medium/larger spaces.
• 11 driver, Dolby ATMOS.
• HDMI e-ARC input.
• Simple to set-up and operate.
• TV remote/app control.
• Apple Airplay 2 support.
OUR THOUGHTS:
• Sonos SUB is essential for open-plan living rooms.
• Sonos simplicity and reliability.