Description
Comprising the Sonos AMP and a pair of high-quality 7″ recessed, in-ceiling speakers, this system offers "almost invisible" enjoyment of background music. Designed jointly with renowned manufacturers Sonance, the speakers are well suited to a wide range of indoor listening zones. The AMP includes a dedicated Trueplay algorithm to ensure the speakers perform accurately in any architecture. And because its Sonos, you can be assured that this system will be flexible and convenient to operate.
Sonos AMP
The all-new Sonos Amp delivers 125 Watts per channel to power high fidelity sound and streaming capability when connected to your choice of architectural, bookshelf, outdoor, and floorstanding speakers.  With access to over 100 services, control is easy with the Sonos APP, AirPlay, the touch interface, or your voice via smart devices like Sonos One. For extensive multi-room applications, open-ended IT ensures that the Sonos AMP is easily integrated into all 3rd party smart home control platforms.
Multiple Sonos AMP modules can be neatly rack-mounted to guarantee the ultimate "neat" finish and efficient use of space.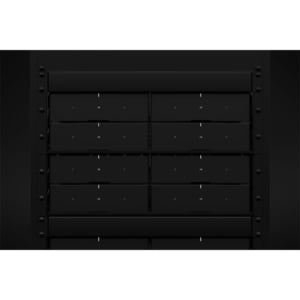 And with meticulous, modular hardware design, supported by on-going updates including new features and services, your experience will improve over time.
Sonos In-Ceiling Speakers
The Sonos In-Ceiling speakers are engineered to ensure synergy with the AMP. The speakers are well-suited for high quality indoor, background listening in spaces up to 40²m. A Sonos SUB can be added to extend bass response in larger spaces. The finish of the speakers is smart and discrete and includes a "flat-to-ceiling", magnetic grill. The speaker grills, finished in arctic white, are also paintable.
Install as Stereo or Surround Sound
The Sonos In-Ceiling system can be configured as a traditional stereo set delivering high-quality music and radio streaming. When installed together with a Sonos Bar, Base or Beam, the In-Ceiling speakers can also be configured as a discrete, high performance rear left and right surround sound set.
KEY FEATURES:
• System comprises 2 x 7″ ceiling speakers and Sonos AMP.
• Configurable for simple stereo or as rear surround speaker system.
• 2 x 125 Watts at 8 ohms.
• HDMI ARC input for TV audio.
• Analogue audio input.
• Extensive access to music streaming services.
• Excellent app control via Apple IOS/Android devices.
OUR THOUGHTS:
• Excellent build and performance.